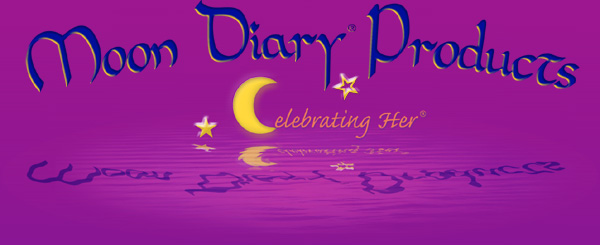 Moon Rites ..........How to use this book.......
taken from the front pages of the Moon Rites book
How to Use this Book
Moon Rites is designed to be used as a tool to help women develop their self-understanding and personal power. There are three parts, each with a specific purpose.
Part One — The Goddess
This part of Moon Rites is your theory and information section.
'The Goddess — from Her-story to Our-story' gives an historical overview of female divinity, the Goddess and her various aspects, and how they relate to our experiences of menstruation, motherhood and menopause.
'Who Is The Moon Goddess?' introduces the ideas and archetypes of the Triple Goddess: the Maiden, Mother and Crone (or Wise Woman). 'Women's Rites' presents information on the ancient practices of ritual, visualisation and affirmation and how they can benefit anyone of any age, race or culture. This section explains some traditional ways of performing rituals and how you can change and adapt them to suit you personally. 'Goddess Lore' focuses on the connection between the physical aspects of menstruation, giving birth and menopause, and how these transitions affect our minds, hearts and souls.
Part Two — Moon Rites
This section of the book gives four detailed examples of rituals that can be used as written or adapted to celebrate and honour some of the major transformations in a woman's life. There is one for menarche (first period), one for those women approaching motherhood and one that honours 'the belly', which can be used whenever you like. The fourth ritual focuses on menopause. In addition to these rituals there are special words for each occasion, an interview with a woman who has experienced these transitions and a few blank pages designed to allow space for you to add your own thoughts, memories or observations.
Part Three — Moon Goddess Journal
The last part of Moon Rites is designed to be used as a workbook. It is meant to be a practical guide to assist you in discovering your feminine power and inner essence. There are thirteen monthly sections corresponding to the thirteen lunar months in a year. Each
section contains information about a Goddess, a segment on an aspect of health and wellbeing, and a moon rite. These rituals can be
performed as written or used as a basis for your individual visualisations or affirmations. At the end of each lunar month there are blank pages for you to make notes about your state of health, your dreams, your thoughts or what you've learned. These may assist in familiarising yourself with your own cyclic nature. Begin in whatever month you like and work through them over time. With knowledge comes power, with self-knowledge comes personal power.
At the end of the book is a reading list for those who want to explore the feminine journey and its many aspects further.
Moon Rites has been designed so that each section makes sense on its own but is part of an interconnected whole. You can dip into the book and find useful information without moving through it in a particular order. For example, you could begin the workbook without reading the first two parts, although if you are unfamiliar with the idea of ritual, I'd recommend that you read the section on Women's Rites before beginning.
The most important thing is to enjoy this book and use whatever is helpful to you! May you live always in joy, love and power.