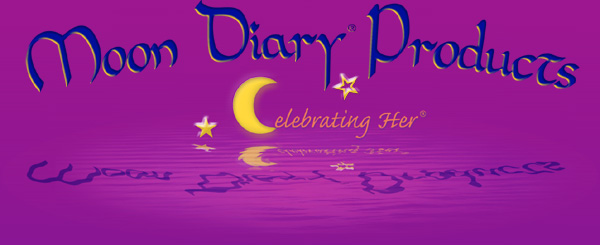 I was born in the mid North of South Australia and spent my early life in Adelaide. I now live on the Mid-North Coast of NSW.

I am a musician, dancer and teacher amd have a great t love of gardening and working with textiles. I grow a goodly proportion of my own food and have lately been spening more time using the plants that surround me in this magnificent environment , to colour my clothing - eco-dyeing.

My work researching, writing and producing the Moon Diary grew out of a lifelong fascination for myth and ritual and my long search for a women centred spirituality.
"Tools for the journey that come from the well spring of the Feminine Soul."

Moon Diary Products was begun in 1993 and grew out of my search for a woman centred spirituality and a deeper connection with the cycles of nature. My journey challenges me to live the ordinary life in a way which recognises the sacred in each and every act and thing.

My work is about fanning Her flame and offering images and knowledge about the rich culture of women which has been almost obliterated. Immersing ourselves in and honouring the principles of woman centred spirituality, en-ables us to take up the values of diversity, spontaneity, compassion, beauty and self-empowerment.




I am also the principal of the Awalim School of Middle Eastern Dance and Percussion , founded in 1996, which has been a flourishing centre for women's creativity, empowerment and all round fabulous colourful fun.

Together with my partner Persia and other women from the Awalim School, I play Middle Eastern percussion and dance with TARAB a troupe which has taken the beauty, colour and self expression of women to the broader community
To read Shekhinah's address at the opening of the 2006 Goddess Conference in Australia CLICK HERE